This facility is for customers to contact us in an emergency. For non-emergency issues please open a new support ticket.
Premium Support Level
This feature is only available to customers with Servers on one of Premium Support Levels, the query should relate to only the server(s) with this Level of Support.
To access your Phone Support details, from within your Memset Account on the main Overview Page, select the "Emergency phone support" option under the "Support" section.
Alternatively, this can be found by selecting either "Cloud VPS" or "Dedicated Servers" from the main Overview Page in your Memset Control Panel. The list that follows will contain all of the Cloud VPSs or Dedicated Servers in the account, for the server in question select the "Manage" option, from here on the right side under "Support" select the "Emergency phone support" option.
For Server with our Premium Level of Support, you will see a page similar to the below;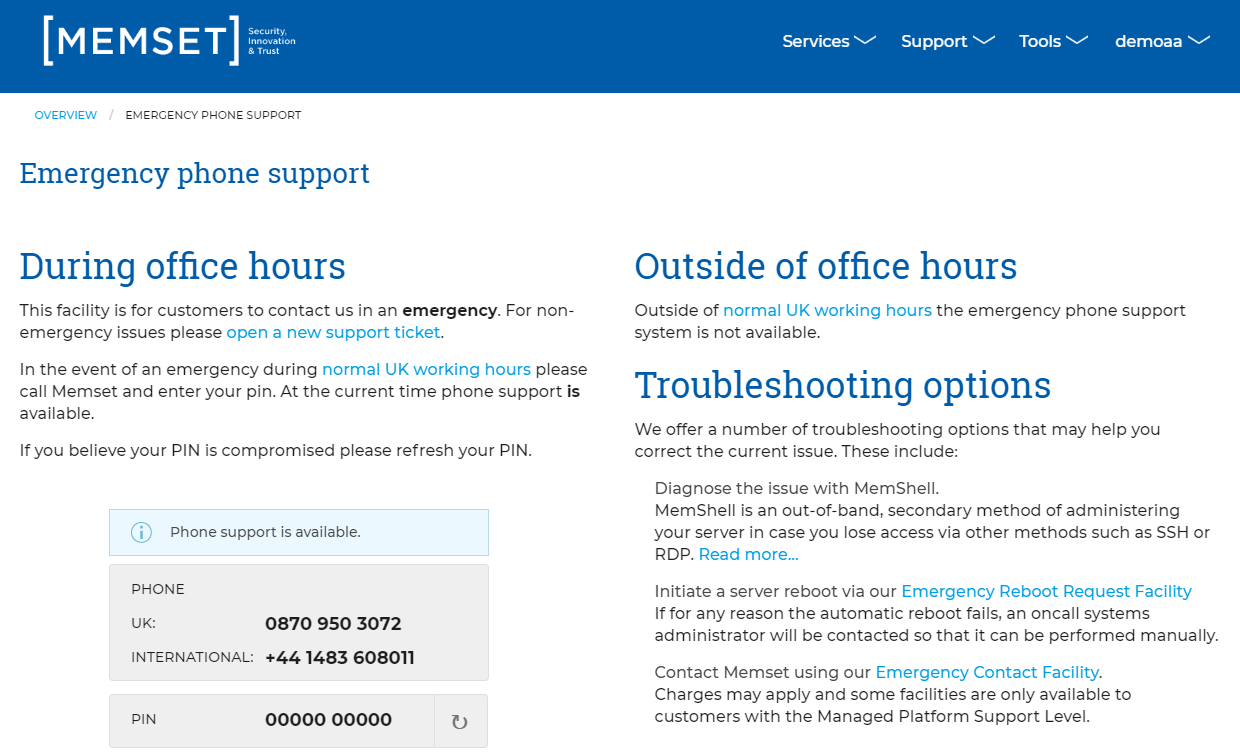 In the event of an emergency during normal UK working hours please call Memset on one of the phone numbers provided on the page (please note the numbers shown in the above image may no longer be correct) and enter your unique PIN displayed on the Page.
Once your PIN has been verified, you will then be transferred to one of our Technical Support Team, while we aim to answer the Phone as soon as possible, on some occasions it is not always possible, and so we will call you back within 30 minutes (during working hours only) of the call being received.
By using a PIN, our Technical Support Team will know the account you are calling from, and you will not need to authenticate yourselves, simply explain your issue and for which server(s) this relates to, and they will be able to assist you further.
The PIN does not automatically regenerate, as such, if you believe your PIN is compromised please refresh your PIN manually.
Outside of Office Hours
Outside of our normal working hours the emergency phone support system is not available a warning will be displayed indicating that Phone Support is not available.
Additional Troubleshooting Options
We offer a number of additional troubleshooting options that may help you correct the current issue. These include:
Out of Band Access with MemShell or a DRAC
MemShell is an out-of-band, secondary method of administering your server in case you lose access via other methods such as SSH or RDP, More information on it can be found here.
For Dedicated Servers there is also the DRAC (where available) that allows additional access, More information on it can be found here.
Initiate a Server Reboot via our Emergency Reboot Request Facility
More information on this can be found here. If for any reason the automatic reboot fails, an oncall systems administrator will be contacted so that it can be performed manually.
Submit an Emergency Support Ticket.
These are responded to 24x7x365, Charges may apply depending on your Support Level and some facilities are only available to customers with our Premium Support Level. More information on this can be found here.