Applies To: DOMAINS
This documentation describes how to manage domains that were registered through Memset. Domains that were not registered through Memset can be managed through the company that was used to register them.
Memset registered domains are all managed via the OpenSRS Management Interface. OpenSRS is the company that Memset uses to register domain names as Memset is not able to directly register domains. OpenSRS are an industry leading bulk domain registrar. They provide an interface to modify and update all domains registered through them.
A link to the OpenSRS management interface for each domain is provided in the Memset control panel. It can be found via the Manage page for each domain. In order to get to the Manage page please navigate as follows:
My Account → Services → Domains → Manage → OpenSRS Management Interface

The link to the OpenSRS manage interface is linked to next to the URL line from the OpenSRS Management Interface section of the Manage page. This link will open the login screen with the following fields: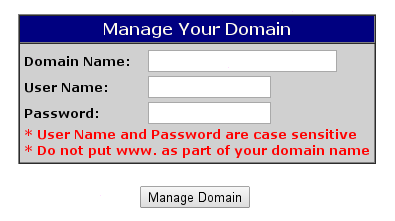 Domain Name – Your domain name without the www's
User Name – Your Memset username without the final number e.g. examplaa
Password - See below
The needed password is obtained from Manage page for the domain. Clicking the Send Link button will email a link to your Memset account's primary email address. Clicking on this link will take you to a secure page within the Memset site that provides the password.
Each type of domain e.g. .com .co.uk .info, has it's own authority responsible for maintaining the database of registered domains, the whois database and all the rules and procedures pertaining to that domain. Unfortunately, this means that there are almost no standard procedures or properties for all domains and therefore there are exceptions to the following information for any particular domain.
---
Additional Information on Managing your Domain, can be found below;