IPv6 Control Panel Configuration
Applies To: CLOUD VPS DEDICATED
IPv6 Implementation in Beta
Currently our IPv6 Implementation is currently in the Beta stages, however is available for customers to join via our Beta Program.
If you are interested in enabling support for IPv6 in your Memset Account, we recommend you review the Limitations of the IPv6 beta first, and the Open a Support Ticket with our Technical Support Team whom will be able to enable this feature for you.
Assigning an IPv6 Prefix to a Server
In order for your server to start using IPv6, you first need to assign an IPv6 Prefix to the Servers where you would like IPv6 Enabled. To do this, log into your Memset Control Panel and locate the IPv6 Beta button within the Tools subsection of your account.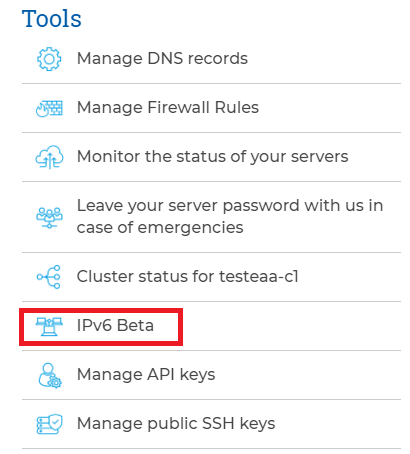 You will now be prompted to allocate IPv6 Prefixes to your server(s). Just click the tickbox next to each server where you want to assign an IPv6 prefix to, and then click the Submit button.
You will now see a list of IPv6 enabled servers, however no IPv6 addresses have yet been allocated. To do this, click on the server's IPv6 Prefix link that you want to allocate a new IPv6 address to.

---
Assigning an IPv6 Address to a Server
Once an IPv6 prefix has been assigned to a server, you can then assign some IPv6 Addresses to the Server. To do so, select the "add/remove IPs" option in the Table "Servers with IPv6 Prefixes" for the server you want to add the IPv6 Address too.
It's best that you select the "Use random address?" option to allocate the IPv6 addresses to your server, unless you require a specific IPv6 Address within your chosen IPv6 Prefix. Additionally you can also configure the Reverse Map Name to be configured with this IPv6 address here as required.

Once you are ready select the "Assign Address" button. You will then see that your server has been allocated an IPv6 address.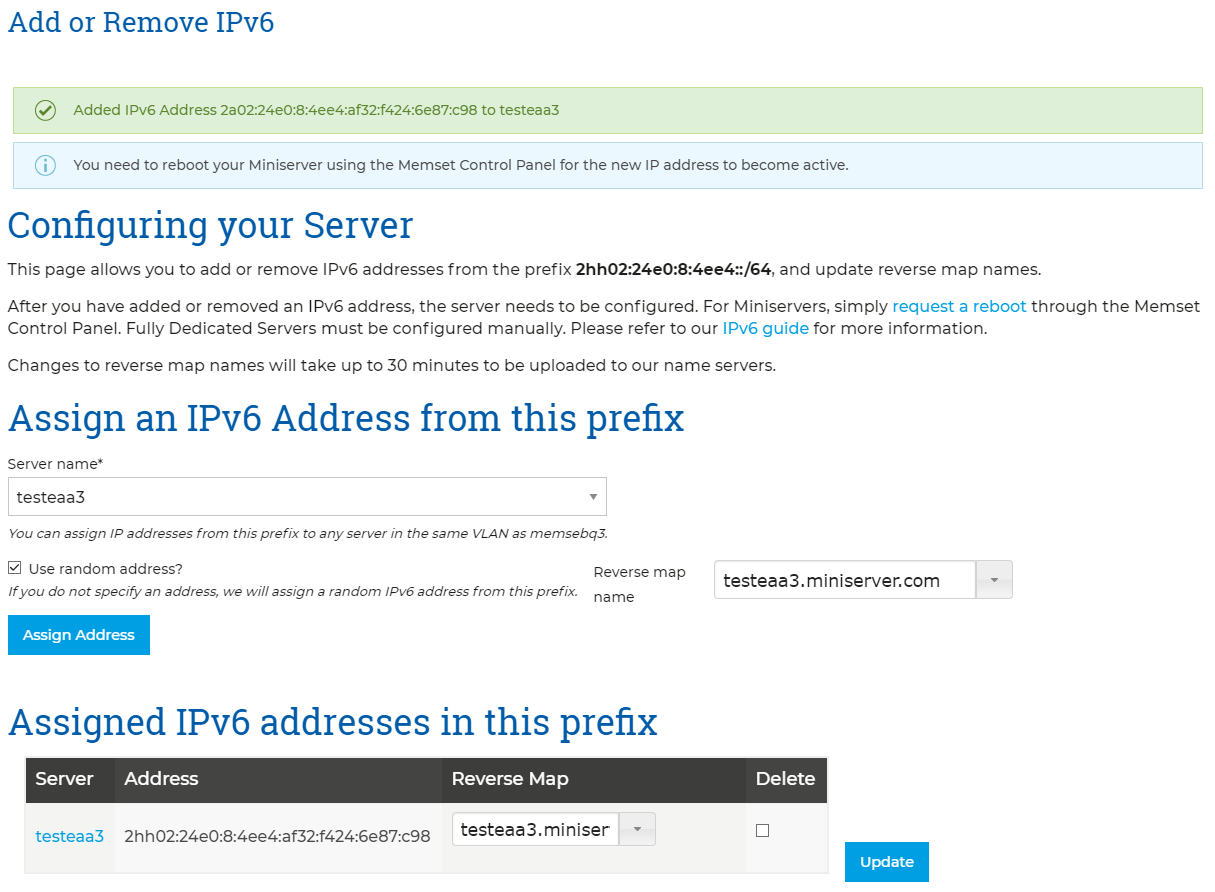 You can repeat this process for each additional IPv6 that is required and for each server you want to assign an IPv6 address to.
Your server has now been allocated an IPv6 address and is networked with IPv6 support. However, the server is not yet configured to work with IPv6.
In the case of Cloud VPSs all you need to do is to reboot the VPS via the Memset Control Panel. When it reboots it will pick up the new IPv6 networking configuration automatically.
For Dedicated Servers they will need manual configuration which is detailed on the IPv6 Network Configuration Page.
You will also need to use the Memset DNS Manager (if you have your domain(s) nameservers pointing to us) to assign AAAA records to your server.